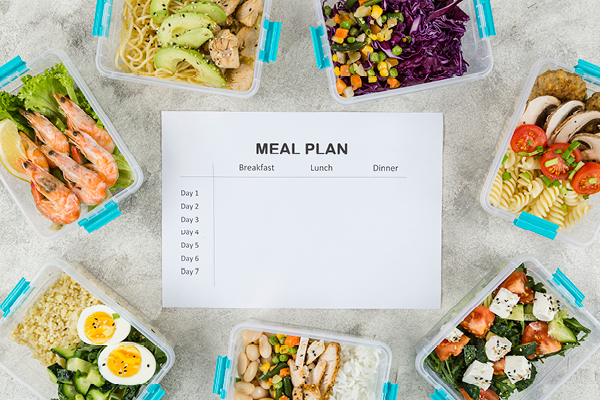 Bone Building Meal Plan
Bone Building Meal Plan #1
Breakfast
Veggie omelet with tomatoes, peppers, and kale
Benefit
Eggs are a great source of protein which is the building block for all the cells in our body, including our bones!
Vitamin C from the veggies is an essential nutrient for building collagen in the bone matrix.
Lunch
Grilled cheese on whole wheat bread and side salad
Benefit
Chesse provides your bones with calcium, an important nutrient that keeps bones strong and dense.
Bones are remodeled every 10 years so it is important to maintain a bone-healthy diet throughout all spans of life!
Snack
Smoothie with fruit and nut butter
Benefit
Nuts and nut butter are good sources of phosphorus which is another important nutrient for bone health!
Phosphorus helps your body build bone minerals which is the beginning of strong bones.

Dinner
Salmon with 1 cup broccoli and 1 cup sweet potato
Benefit
Salmon is an excellant source of both calcium and vitamin D!
Snack
Full-fat Greek yogurt and fruit
Benefit
Vitamin D helps your body (specifically your gut) absorb more calcium from your diet!
Bone Building Meal Plan #2
Breakfast
2 eggs with 1 oz. feta cheese
and ½ cup cooked spinach
1 slice calcium-fortified toast
4 oz calcium-fortified orange juice
Benefit
Egg yolks are rich in Vitamin D and a great source of protein. Vitamin D helps the body absorb calcium.
Many products such as beverages, cereals, and bread are fortified with calcium for added bone health benefits.
Lunch
Salad with grilled chicken and
1/2 cup canned pinto beans
4 dried figs
Benefit
Beans are a great source of calcium and protein. Dried figs contain the highest amount of calcium than most other dried fruits.
Snack
1 cup plain full-fat Greek
yogurt w/ ½ cup blueberries.
Benefit
Dairy is one of the most readily available sources of calcium.
It also provides a significant amount of phosphorus which is essential to bone health.
Dinner
1 cup tofu made with calcium.
1 cup kale and butternut
squash.
Benefit
A non-dairy source of Calcium such as tofu and certain vegetables can provide a significant amount of calcium.
Snack
¼ cup almonds
1 orange
Benefit
Among all nuts, almonds are the highest in calcium.