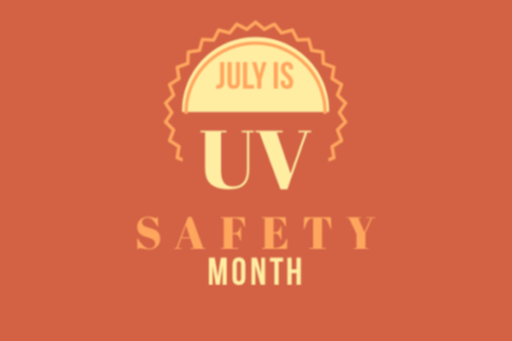 UV Safety
The summer months have us spending most of our time outdoors. So, it is important to be mindful of Ultraviolet ray overexposure which can be detrimental to our skin, aging, the immune system, and can be a cause of eye cataracts. With July being known as Ultraviolet Safety Month, spreading awareness and practicing preventative measures can protect your health and allow you to enjoy the summertime, worry-free.
When the sun emits radiation as UV light, the wavelength can be classified as UVA, UVB, and UVC. The ozone layer is a protective layer in Earth's stratosphere that blocks all UVC light, but UVB and UVA light pass through it. UVA penetrates deeply into the skin and can age the skin and cause wrinkling or leathering. UVB causes sunburns and exposure to both UVA and UVB is associated with the development of skin cancer.
Our physicians treat a variety of skin cancers. Treatment of skin cancer, depending on the stage and type, may include chemotherapy, immunotherapy, radiation therapy, and/or surgery. These treatments may be used individually or in combination based on your doctor's recommendations. It's important to discuss all of your treatment options with your doctor to help make the decision that best fits your needs.
Fortunately, there are measures to minimize the risks that come with sun exposure.
Protective clothing: wide-brimmed hats, shade-protective clothing, and 99% UV radiation protective sunglasses.
Staying in the shade during the most intense UV radiation times of the day, between 10 am and 4 pm.
Sunscreen with a sun protection factor against UVA and UVB radiation of at least 15 SPF. A palmful should be applied every two hours or more often when sweating and swimming.
Proper hydration including an adequate amount of water, and water-rich foods such as fresh fruits and vegetables.
Undergoing cancer treatment takes tremendous strength and overdoing it can be harmful to your health. It is important to listen to your body and if you are not feeling right or symptoms do not go away, contact your physician immediately.